JEAN MIGUERES
Official homepage
© 2005

Jean Miguères
(1940-1992)
54 years ago...

... Man took his first step on the moon on the 21st July 1969.
A few days later, on the 11th August 1969 the visit was returned on Earth by an outer space man.
And what appeared to be a hideous yet banal road accident, was, in fact, something else.

EXTRA-TERRESTRIAL INTERVENTION
THE ACCIDENT
On the 11th August 1969, at 5h25 a.m., on the "National 13 bis", in Saint-Etienne du Vauvray (27, France), near Rouen, Jean Miguères who was an ambulance driver, was the victim of a terrible head-on collision with another vehicle. The newspaper Paris-Normandie ( August 13, 1969 ),wrote : "the crash was so violent, that both vehicles were literally disintegrated." Jean Miguères survived thanks to an extraterrestrial.
After the crash, Jean Miguères saw a being which looked like a man - but with a bigger head standing near him. He said : "DO NOT BE AFRAID. YOUR INJURIES ARE NOT REAL, YOUR WOUNDS LOOK REAL, BUT THEY ARE NOT. YOU WILL NOT FEEL ANY PHYSICAL PAIN, AND YOU WILL SUFFER NO AFTER-EFFECTS OF THIS ACCIDENT. IN THE FUTURE, YOU WILL BE MUCH STRONGER THAN BEFORE. I AM GOING TO "REGENERATE" YOU THANKS TO A PROCESS WHICH IS NOT YET KNOWN ON YOUR PLANET."
J.M. had other telepathic messages and this is how he knew the name of he to whom he owed his life. He also learned from STRÔB that he had been chosen as intermediary to fulfil a diplomatic mission to prepare earth-dwellers for a planetary scale with extra-terrestrial civilisations which are more highly developed than our own." Jean Miguères was allowed to either to accept or refuse that mission.
The decision to contact an earthling was motivated by our walking on the moon and by the fact that we would try to go further. They also knew that the situation on our planet was increasingly alarming. We were destroying it. Earth-dwellers seeking to conquer space, and able to conquer the moon in 1969, would look to go further and further to conquer planets more and more distant from the Earth .
Given that we choose to mismanage and slowly destroy our planet, in no way we were allowed to bring our illnesses and our lethal weapons to planets less developed than ours and which are unable to protect themselves. This large-scale contact with extra-terrestrial civilisations had to take place because it is time for the earth to make up his mind and to evolve.


Jean Miguères spread this message from 1969 until his death on 28th July 1992.
Nobody has been able to refute the authenticity of his experience.



Above left :
Photo taken at the site of the accident.

Above right :
The wrackage of the ambulance.

Left :
The oncoming vehicle.

Right :
The oxygen didn't explode despite the violence of the crash (evalued at 300 km/h).
BEFORE THE ACCIDENT
A few seconds before the accident, Jean Miguères felt as if words were being written in his brain. This is what he "heard" :
"DO NOT BE AFRAID. LET US GUIDE YOU, YOU WILL COME TO NO HARM, WE WILL PROTECT YOU, WE ARE HERE FOR THAT. YOUR INJURIES ARE NOT REAL, YOU SHALL NOT FEEL ANYTHING. WE ASK YOU TO BE CALM AND TO STAY CALM."
Then he saw a kind of white incandescent cloud standing out against the sky and coming towards him; this cloud was spherical and seemed to have a metallic platform as a base.

At almost the same moment, Jean saw in the opposite lane, a car driving in a strange way going from one lane to the other. The most surprising thing was that all the needles on the dashboard went wild and there did not seem to be a driver in the other car.

Despite his attempts to avoid this car, the two vehicles crashed violently in the middle of the lane. Each car was thrown back several meters.
ASSESSMENT OF THE INJURIES
The police report number 999 from the 11th August 1969 evaluated the speed at the moment of the crash at more than 300 km/h.

Jean Miguères remained stuck in the wreckage, crushed and dislocated with multiple serious injuries for 3h20, the time which was necessary to get him out of his vehicle.
At 8h45, on 11th August 1969, Jean Miguères, clinically dead, was admitted into Louviers hospital, were everything was done to revive him.
Initial assessment of his injuries :
• crushed left foot
• multiple fractures on legs and arms
• pelvis and nose fractured
• lung pierced by the crushed ribcage
• exploded liver, spleen and gall-bladder. There were 3 haemorrhages.
He was three times brain dead and went through 18 surgical operations.

EXTRA-TERRESTRIAL INTERVENTION
The being donned him with a small white luminous disc as incandescent as the cloud he had seen and then transmitted to him :
"YOU ARE REDIMENSIONED. WE WILL COME BACK TO SEE YOU."
Jean Miguères claimed that he had never really suffered during the accident - and during the years that followed, his energy was greatly increased. He was able to walk again without physical therapy and, despite having one leg shorter than the other, was able to walk without limping.

Medical science was unable to explain Jean Miguères's case, and some even used the word "miracle" to describe it.
ORIGIN OF STRÔB
Jean Miguères had other telepathic messages and that is how he learned the origin of these other beings.
"WE ARE YOUR OUTER-SPACE BROTHERS. WE ARE LIVING AND INTELLIGENT BEINGS LIKE YOU; OUR CONSTITUTION AND ASPECT ARE SIMILAR TO YOURS IN MANY WAY. THE REPRESENTATIVE YOU SAW IN YOUR VEHICLE HAD HIS REAL SHAPE; HOWEVER, DEPENDING ON THE SPECIAL NEEDS OF A CONTACT, WE SOMETIMES MODIFY OUR APPEARANCE WHICH WE CAN DO VERY EASILY, SINCE WE HAVE PERFECTED THE ART.

EXACTLY AS YOU DID ON YOUR PLANET, WE WENT THROUGH EVERY DEGREE OF PHYSICAL EVOLUTION. YET WE ARE NOT QUITE LIKE YOU BECAUSE WE HAVE PASSED YOUR LEVEL OF EVOLUTION BY THE EQUIVALENT OF ABOUT TWENTY MILLION OF YOUR YEARS. WE ARE ABLE TO COMMUNICATE WITH YOU IN EVERY LANGUAGE OF YOUR PLANET BY TELEPATHY, AND WE ONLY USE WORDS YOU CAN UNDERSTAND AT THE PRESENT STAGE OF YOUR KNOWLEDGE." (…)

"YOUR RESEARCH IS ABOVE ALL BASED AROUND YOUR OWN SELF-DESTRUCTION. (...) WE ARE YOUR SPACEBROTHERS, WE WISH EARTHLINGS NO HARM. YOU MUST, IF YOU ACCEPT THIS MISSION, HELP US PREPARE OUR ARRIVAL ON PLANET EARTH BY INFORMING YOUR FELLOW HUMAN BEINGS ABOUT US AND REASSURE THEM REGARDING OUR INTENTIONS."

BIOGRAPHY OF JEAN MIGUERES
| | |
| --- | --- |
| 11 May 1940 | Birth of Jean Miguères |
| 11 August 1969 | Accident |
| 28 July 1992 | Death of Jean Miguères |
CONFERENCES ABROAD
| | |
| --- | --- |
| February-July 1977 | La Reunion |
| June 1978 | Montreal |
| January-March 1981 | Haute-Volta, Ivory Cost, Senegal |
| April 1981 | Montreal |
| January 1982 | Haute-Volta, Ivory Cost |
| July-August 1985 | Australia |
| June 1988 | La Reunion |
| Mai-June 1991 | La Reunion, Morris |
Jean Miguères also participated at numerous conferences in France. Most of the conferences were preceded by sightings of UFOS. The last one was given at "Salon-de-Provence", 14th April 1992, the town were NOSTRADAMUS died at the age of 52.
Other coincidences regarding dates and places are concerning the total eclipse of the moon which took place on 28th July 1999 (Jean Miguères died on 28th July 1992 ) and the total eclipse of the sun on 11th August 1999 (this accident has taken place on 11th August 1969 ).

The total eclipse of the sun was particularly visible, among other sites, at the North of Rouen (the accident took place near to Rouen).


THE BOOKS
Jean Migueres wrote 3 books ( in French)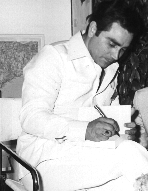 J'ai été le cobaye des extra-terrestres
(Alain Lefeuvre Edition)
In this book, published in 1977, he recounts the story of his accident and his extraordinary encounter.

Le cobaye des extra-terrestres face aux scientifiques
Iin this second book Jean Migueres discusses, among other things, his disturbing account of being hypnotised.

1996, la Révélation
His 3rd book was published 1986. J.M. had announced it would be the last one.
Jean Miguères stated that his three books were coded : Following in depth studies we have been able to link (using numerology) the 1996 date and the announcement by NASA on 7th August 1996 that a meteorite showing signs of life had come from Mars, implicit proof that extra-terrestrial life exists.

The 3 books are still available
In French : Book I and II, 13 € each. Book III: 15 €
In German : Book III (1996, la Révélation was translated into German "Die Offenbarung"): 16 €

These prices include post and packing.
To order the books please contact pascalannick@wanadoo.fr
THE CONCEPT OF THIS PAGE
It is to protect and preserve the written work, as well as the intellectual and spiritual heritage of Jean Miguères, and to inform people about his UFO experience.
.